If you're looking for inexpensive, carefree holiday accommodation a decent tent could be the solution. Camping can be a great way to bond with your family and friends and create some great memories. A tent allows you the freedom to spend a few days exploring a new area and when you've exhausted all that area has to offer, you can literally up sticks and move on to a different area.
If you're new to the world of camping, or it's been a few years since you've camped, buying a tent can be confusing. We've put this guide together to give you a head start and help you avoid some of the rookie mistakes that can put you off camping for life. For ease of use we've categorised everything under easy to read headings, so let's jump straight in.
What Size Tent Do You Need?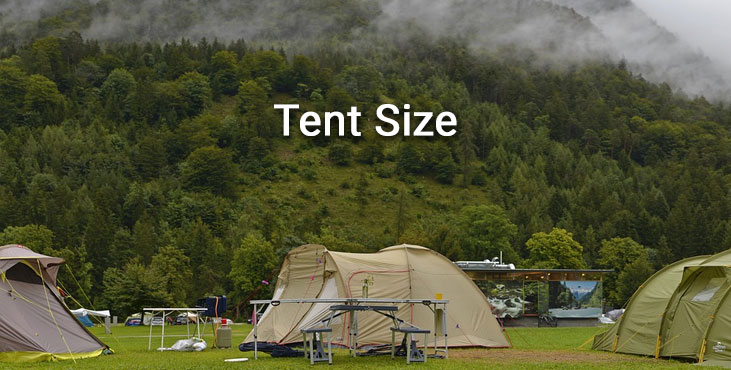 This is the first and most important thing to consider, get this wrong and there will be untold problems. Tents come labelled as so many person tents, like 1-person, 2-person, 3-person etc. The problem is tent manufacturers tend to quote just on the recommended number of people their tent can hold.
This often doesn't take into account any kit, luggage or equipment you might need to fit into the tent along with the people. So always go larger than you need, for instance, if there are two of you go for a 4-person tent. That way you'll have enough space for all of your luggage as well as room for two to sleep. You also need to allow for the use of airbeds, inflatable mattresses and folding camp beds (with metal frames) as these take up more space than a person in a sleeping bag.
Added to this is the lack of standardisation when it comes to people sizes. All quotes are for average sized people so if you happen to be over 6 foot tall you're going to need more legroom than an average 5ft 10 person. This all needs to be taken into consideration, so add at least one extra person (more is better) when calculating the tent size. You can never have too much space when camping.
What Type Of Tent Do You Need?
There are two main types of tent available which are family tents or backpacking tents. Family tents tend to be larger, heavier and have various extra features that allow you to comfortably house children, stroppy teenagers who "want some space" plus some central space for eating etc.
Backpacking tents are far smaller, lightweight and usually built to take more severe weather conditions than family tents. There is generally no free space in a backpacking tent, just a small area that you sleep in. They're not designed for comfort, just to keep the elements out and allow you to set up and break camp quickly. Within these two main categories there are sub groups, which are more about the design, they are;
Geodesic Tents
These are designed to be stable, able to take strong winds and are the perfect design for backpacking. They have lots of tent poles which crossover and intersect for improved stability and the more nodes (points where the poles cross) the stronger and more stable they are. Some have less nodes than others and these are often referred to as semi-geodesic tents.
Dome Tents
Dome tents are designed to allow far more space and are usually easy to erect. The average tent pole count for a dome tent is 3 to 4 which makes them simple to pitch and pack down again. They have sloping sides and due to the shape, they're strong and can withstand strong winds.
Tunnel Tents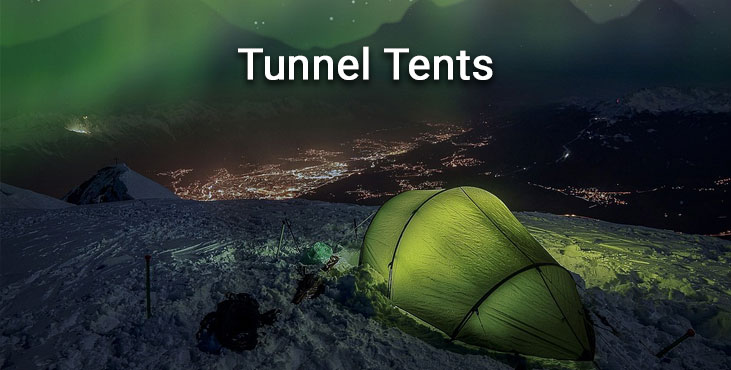 Ideal for trekking, the tunnel tent is far lighter than the dome tent and offers a good wind resistance due to their tapered ends. They do need pegs and guy ropes to keep them secured and upright which means extra time to put up and take down. A great style tent for families or groups of friends as they often have separate compartments for a degree of privacy.
Bell Tents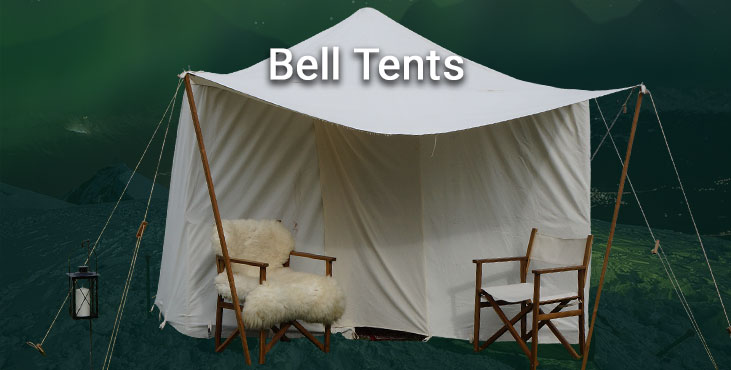 Great for larger groups/families, bell tents have a large open area, so just one room but with enough space for everyone. It is often possible to cook and even use a stove inside a bell tent (with care). Some bell tents are also known as Teepee tents which have a conical design which gives extra floor space but you do lose some of that space at head height.
Multi-Room Tents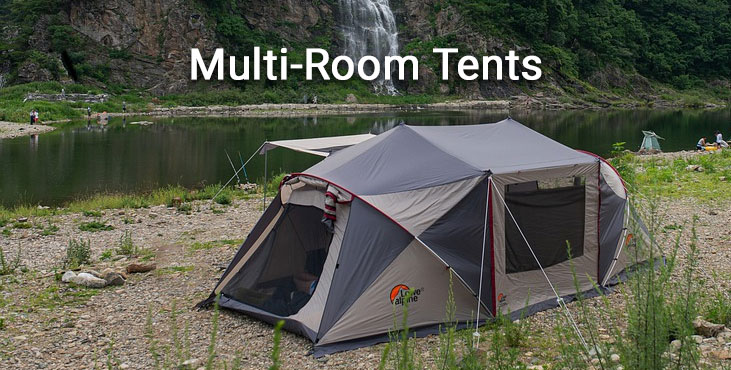 These give you the best of both worlds, the freedom of camping and the privacy for everyone to have their own space. The usual setup is sleeping pods on the outside of a large communal area all within the structure of the one tent.
Inflatable Tents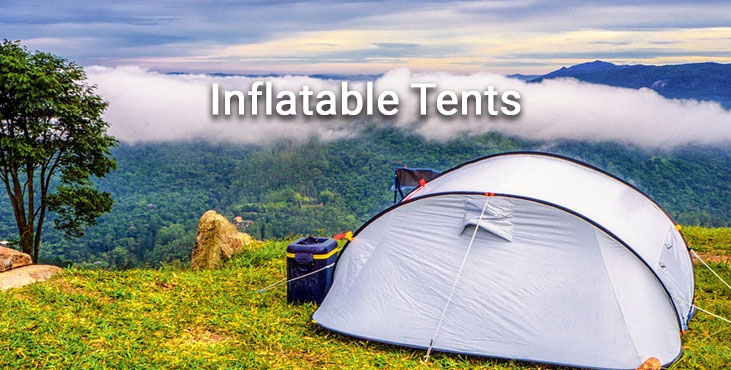 Also known as Air tents, these are a relatively new innovation and are easy to erect. There are no tent poles, just reinforced tubes that are pumped up via a foot pump. They're surprisingly stable and can be pitched single-handedly.
Pop-Up Tents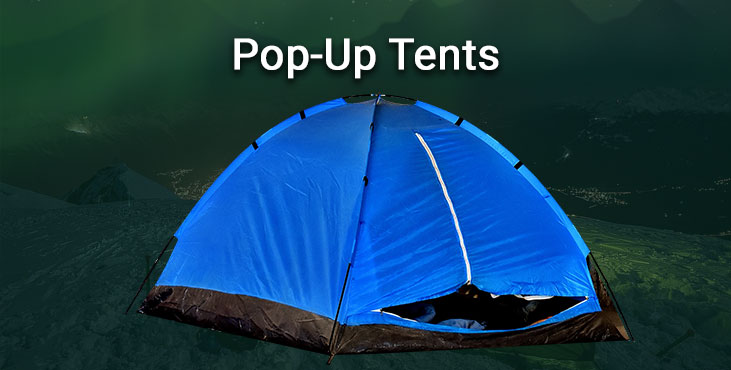 These small, compact, lightweight tents are ideally suited for the backpacker. They take seconds to put up and take down again, but are relatively strong and withstand winds and rain. Inexpensive to purchase but really only suitable for sleeping in.
Ridge Tents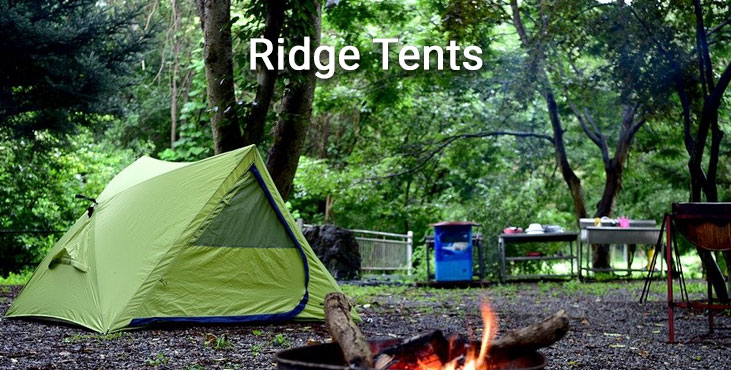 These have a pole at each end and a connecting pole running along the top to create the ridge (pitched roof shape). One of the oldest tent designs and incredibly stable.
What Seasons Will You Be Using Your Tent?
Most campers are what we call "fair weather campers" by which we mean, they only camp in Summertime when the weather shouldn't present them with too many problems. But there are tents available for all seasons so let's have a look at them all so you get the full picture.
One-Season Tents
If you only intend to go camping during the Summer, a one-season tent is your best choice. They have more ventilation, are made from breathable materials, and can cope with light rain showers and mild winds.
Three-Season Tents
These are designed for use in the three main camping seasons, Spring, Summer and Autumn. They're made using stronger materials which can stand heavier rainfalls,stronger winds and even light snow showers. Far better insulated than one-season tents and yet still providing good ventilation.
Four-Season Tents
A bit deceiving these really, because even though they're called four-season tents, they're really only suitable for Winter use. Technically they can be used throughout the year, they are actually designed for heavy snow, strong winds and cold climatic conditions.
Which means they have extra insulation and far less ventilation. They're also made from heavier fabric which requires stronger, heavier poles. Making them heavier to transport and way more expensive.
Tent Materials
Often an overlooked factor by many experienced and novice campers, the fabric the tent is made from should be one of the main deciding factors on the tents suitability for your needs.
Tents are usually made from;
Nylon
Nylon tents are lightweight, breathable and will repel rain water if it's coated with the correct waterproof coating (commonly polyurethane). Nylon is probably the cheapest option when it comes to tent fabric and as long as it's looked after properly it will last for many seasons. However, over time, that waterproof coating will wear off which will result in you getting wet.
Polyester
Polyester is also breathable and waterproof just like nylon, but where polyester wins is it's so much more durable than nylon. It won't fade in direct sunlight, but it is slightly more expensive than nylon.
Canvas
Tents were traditionally made from canvas and is still used to make some tents today. It is breathable, waterproof and extremely durable. The disadvantage with canvas tents is their weight, it's extremely heavy and even more so once it gets wet. Canvas tents should only be considered if weight is no problem so car campers only.
GORE-Tex
For three or four season tents, GORE-tex is the best option. It is breathable, waterproof and yet fully insulating, making it perfect for Winter camping. The only problem is it's price, a GORE-tex tent will cost substantially more than any of the other options.
How Much Can You Expect To Pay For A Tent?
In many cases the price can be the deciding factor when it comes to tents and camping accessories in general. Which is a shame because to get the best quality often means paying the most. Here are a few points to help you decide.
The Type And Size Will Affect The Price
Small backpacking tents will obviously cost less than larger family type tents.
All Weather Tents Are More Expensive
Due to the materials used and the methods of construction three or four season tents will cost more than one season tents.
High Quality Tents Will Cost More
The higher the quality the more the tent will cost but the longer it will last as well.
Buying Camping Equipment Out Of Season Can Save You Money
It is often better to purchase a one-season tent on or around black friday for example. It might be five or six months before you can use it, but you can save a substantial amount of money.
Small 2-man dome tents and pop up tents start at around the $20 to $30 price range. Tunnel tents start at around $70. Bell tents start at around $300 and rise to over $1,000. Multi-room tents start at around $200 and rise (depending on size) to over $1,000.
What Features Should You Look Out for In Your Tent?
Once you've decided on the size, shape and type of tent that will best suit your needs, you'll need to consider the following features. Not all types of tents have all of these features so you'll need to decide which are the most important for your particular requirements.
Flysheet
This is the fabric that goes over the outside of the tent. It's there to keep the rain off and the wind out. They need to be strong and waterproof – the term for waterproofing in tents is Hydrostatic head and the minimum is 1,500mm, which is the basic level so 2,500mm or 3,000mm is a far better hydrostatic head for keeping you and yours dry. The material the flysheet is made from will affect the cost price.
Whatever you do, don't try saving money on the flysheet material, you really do get what you pay for with flysheets. Usually they're made from polyurethane (PU) which gives the best waterproofing protection. Polycotton gives better air flow and allows more light through but takes more in the way of care before packing away and storing. You'll need to consider when and where you intend using your tent to make the best choice of flysheet.
Inner Tent
This is the room divider found in some larger tents. Made from a breathable fabric and a mesh, the inner tent gives some privacy and creates air flow which will help cut down on condensation.
Groundsheet
Tents either have a groundsheet that's sewn in – creating a self-contained unit which prevents water seepage and insect invasion (from the ground at least). Or a linked-in groundsheet which needs to be attached to the tent and almost always has gaps that will allow water and pests in.
Footprint
This is a large pad that goes directly onto the ground to protect the groundsheet from sharp rocks, stones, mud etc. Often tents have specific footprints designed to fit that particular tent but there are generic footprints available. The footprint should be slightly smaller than the tent floor to prevent water from puddling under the tent.
If your tent doesn't come with a footprint you could always use a tarpaulin or similar which can often be purchased for far less than the typical price for a tent footprint. If You are backpacking and a footprint is not an option due to weight limits etc, take care to remove any rocks or twigs etc that although only small, can become extremely uncomfortable when you're laying directly on them, plus they can damage the tent's groundsheet.
Tent Poles
There are 4 types of tent poles available which are;
Steel Tent Poles
Tents that come with steel tent poles will be heavier and cost more but they make the tent stronger and far more stable.
Fiberglass Tent Poles
These are the most common tent poles used as standard by many tent makers. They are flexible and sectioned for ease of use. They do lack a certain amount of strength and can break under not too much pressure. Replacement poles are available but as sizes vary between designs they might have to be custom made.
Carbon Fibre Tent Poles
Very lightweight and strong, carbon fibre tent poles are found on the pricier tents in both backpacking and family ranges. The slight disadvantage of these poles is when they break, they tend to shatter into many sharp pieces so keep a close eye on them.
Inflatable Tent Poles
Not strictly poles, these consist of inflatable beams that are already attached to the tent. Simple to inflate via a foot pump, and much stronger than they look.
Tent Pegs/Stakes
Your tent will come supplied with tent pegs (sometimes called stakes) but these are often of an inferior quality (depending on the price of the tent). It's a good idea to upgrade the tent pegs and also keep a few extra as spares as they often get bent or damaged when securing the guy lines.
Mallet
Absolutely essential for driving tent pegs deep enough into the ground to secure the tent and guy lines in place.
Tent Peg Extractor
This inexpensive piece of kit is often overlooked by newbie campers, but is such a useful tool to have. If your tent has been up for a few days, the pegs can be stuck fast in the ground which makes them difficult to remove. Using this simple tool will make the job so much easier and at around $2 it really is a no-brainer. If you don't have a tent peg extractor, you can use another peg to remove pegs but this can prove to be quite a struggle.
Ventilation
Without adequate ventilation the inside of your tent will get lots of condensation. When cold air meets hot air it condensates and causes water to form on the tent walls and ceiling. Some tents have ventilation and some don't whether your choice does or not, keeping the door and window partially open will help prevent condensation build up.
The tents that seem to have better ventilation systems have their vents at the top of the tents as hot air rises and can then escape easier. Some have side flaps that can be opened and closed putting you fully in control.
Tent Carpets
Not a necessity but definitely worth considering if you plan on regular camping trips. The tent carpet goes on top of the groundsheet to insulate the tent floor. Keeping the floor warm and less uncomfortable for bare feet. Especially useful for long camping trips.
Tent Extension/Shelter
These offer a great way to extend the floor space of your tent for storage etc. Extensions are designed for specific tents so you'd need to check before buying one.
Tent Porch
Tent porches are extensions that are often used for storage space for muddy boots, inflatable boats, backpacks etc. Some even have enough ventilation that it's perfectly safe to cook in the porch area when the weather's being a pain. Smaller tents have less porch space and some have none at all. While larger tents often have a porch large enough to designate it as the kitchen/cooking area whatever the weather.
Windbreak
If your tent doesn't have a porch, it might be an idea to invest in a windbreak. Windbreaks can be used to keep the wind off of your cooker, deflect the wind from the tent entrance or even just to add some privacy to your pitch.
Guylines
These are made from twine, rope or cord and are used to keep the tent upright and stable. They are pegged at specific points for maximum stability and to ease stress to the tent poles by evenly distributing the tension. Especially useful in windy conditions.
Doors
Tents with only one entrance or door are usually lighter weight but two doored tents are far more practical. Especially with children or large groups. Usually the doors come in two layers: the outer layer is made from the same material as the tent and the inner layer is of a mesh material designed to keep insects out.
Windows
Mainly found on larger tents, windows allow you to sit inside the tent whilst still being able to appreciate the outside view. They often have curtains that are either zipped or on velcro to offer some privacy when needed.
Storage Pockets
Pouches attached to the inside wall of the tent that are suitable for storing some items of your kit. The larger the tent, the larger the storage pouches as a general rule.
Power Access
On family tents you can often find a zipped entry point which is made for running a suitable mains cable into your tent to connect to a powerpoint located outside. Be sure to use a residual current device (RCD) or a mains kit specifically designed for your safety.
Lantern Hanging Point
This usually comprises a loop or clip that is attached to one of the top poles so you can attach a lantern or torch. Some even include a cable tidy to keep any cables out of the way for maximum safety.
Other Items For Your Convenience
We've pretty much covered all of the essentials and some of the extras, but here are a couple of extra items that will make your life easier when camping.
The Just In Case Kit
Things can, and often do go wrong, from missing tent pegs, broken or frayed guylines or broken tent poles. If you're taking all of your kit by car (car camping), it's worth packing spare poles, pegs and guy ropes just in case. It might be worth investing in a tent repair kit too, either some flexible tape, flexible adhesive or both just in case an accident happens.
Dustpan & Brush
A decent dustpan and brush will make keeping the tent tidy so much easier, especially when you're about to break camp. A stiff brush or broom is also handy (if space allows) for removing mud from the groundsheet etc.
Before You Go Camping
Here are a few pointers to make your camping experience an enjoyable one.
Practise setting Up And Breaking Camp
If at all possible, have a dry run erecting your tent in your garden or local park. It will take you less time every time you use it so the more practise you have the easier it will become. If you arrive at the campsite late and you've never put the tent up before, you might just have a shock. If you're not one of life's handy people it might be worth considering a pop-up or similar for ease of use, of course if there are a few of you going camping you'll need a larger option but you should have more willing helpers too.
Warranty
Check that the tent you purchase has a guarantee from the manufacturer as these are more likely to be good quality tents made from durable materials and last longer. Check the small print for what's covered and what's not, some offer lifetime guarantees so do your research before you buy.
Size & Weight
Consider the overall weight and size of the tent, if you're backpacking, or have a small car, a large heavy tent is not a good idea.
Tent Maintenance And Storage
To prevent your tent from succumbing to mould and rot, you need to make sure it is clean and completely dry before you pack it away for the Winter. You should wash the tent and flysheet with soap and water and be sure to completely dry it before packing it away. Just a small patch of water can cause mould to form.
Storage
Tents should be stored indoors in a temperate room which is not subject to temperature fluctuations or extreme light changes. Basements and garages are not really suitable places due to changes in temperature and light conditions.
Zip Lubricants
The zips on tent doors should be lubricated to prevent sticking and subsequent issues with tearing. You can buy specially made tent zip lubricants or you can rub a graphite pencil, bar of soap, lip balm, vaseline, silicone spray (WD40) or even glass cleaner up and down both sides of the zip. Be sure to clean the zip before applying any of the above to prevent any dirt getting trapped in the zip.
Re-Waterproofing
Over time, tents will lose their waterproofing ability, it is possible to apply a waterproofing coating to renew the waterproofing ability of your tent. This can be either a spray or a liquid that's painted onto the fabric. There are two different waterproofing parts of the coating, the polyurethane seals and the durable water repellent coating and both will need replacing at the same time.
Top Tips For Getting The Best Tent For Your Money
To make your money go further when purchasing a tent, here are a few helpful tips.
Buy your tent out of season – This is often when you can get the best price deals
Choose an older model – You don't need the newest tent in the companies range, just a good quality model
Sign up to newsletters and websites from camping retailers – These often send discount codes etc
Always buy a tent for more people than you have – This ensures you won't all be cramped and have ample space
Attend any camping shows – This will allow you to see examples of tents set up before you purchase one
Buy an older model from the company you like the look of – This will often be a cheaper option, but you're only skimping on price not quality
Choose the right tent for your needs – If you don't need an inflatable tent, don't pay extra to get one
Look for online offers – Sometimes retailers will offer bulk buys; like the tent plus extras, groundsheets, footprints, other camping equipment.